Unforgettable Conversations
12/9/2012 9:52:00 PM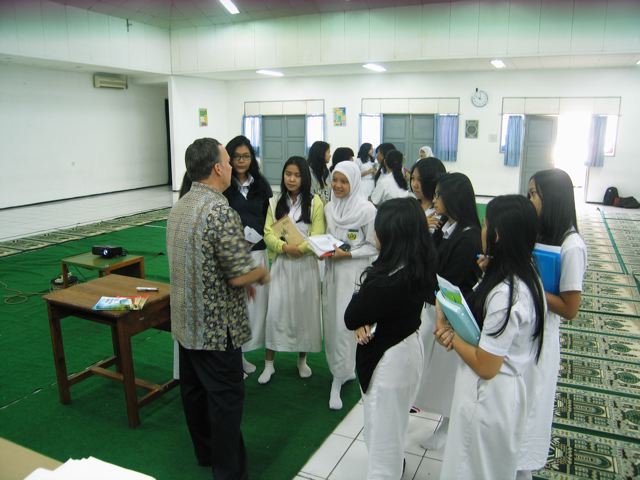 The year 2012 will easily go down as the most amazing of my life. It seems every day is a new adventure of unplanned connections, unexpected emails from appreciative readers, visits with new ambassadors, first-time experiences, and unforgettable conversations with very special people. Life is great at 58!
In my new role as author, educator, and speaker, I find myself in new territories and circumstances that touch the lives of young people. It can involve a talk to schools or parent groups, meeting with youth mentors, attending educational conferences, or doing a book launch halfway around the world in Indonesia. I love being "in the trenches," experiencing firsthand the hopes, dreams, and struggles of today's youth. These kids have left an indelible mark on me, especially those who have been dealt a weak hand.
I think of the students I met while volunteering at an area private and public school. This particular program helps students build stronger bridges with each other and identify some of the personal obstacles getting in their way. It's a profoundly moving all-day retreat that allows kids to get real and deep with each other. You might think that the students of an elite college prep school have it all…but you would be mistaken. While sharing deeply from the heart, these kids either struggle from a lack of love and value shown to them at home or they face unbearable performance pressure from their parents and can never measure up. As their tears flowed, I kept wondering why their parents, who intentionally brought them into this world, had allowed it to come to this.
My visit to the public school had a somewhat different cast, but the lack of a loving, healthy support structure for these kids was even more intense. Fatherlessness was a huge issue and you could instantly see the walls these kids have built. Initially "chilly" remarks of, "I don't care what anyone thinks of me" were later replaced with tears of pain. They don't feel valued. They don't feel listened to. And, they don't feel understood. So, is it any wonder why some of them seek false comfort in the wrong places?
I left these retreats with a heavy heart and a strong personal desire to serve as their advocate. Ideas are already being formed, and you will be hearing about them in the coming year.
Contrast this with our appearance at the
FCCLA national conference
in Orlando. We exhibited our
What I Wish I Knew at 18
leadership/life skills curriculum and spoke with countless advisors and students from around the country who were participating in contests and trainings. These students were engaging, confident, professional, and destined for leadership. In case any of you suffer from hopelessness about today's younger generation, I'd invite you to attend an FCCLA conference! FCCLA is doing an amazing job in preparing young people to be tomorrow's honorable leaders in their families and communities. Well done!
It made me wish that every young person could have this same sense of worth, hope, and confidence in themselves and their future.
I've often wondered whether America's youth are indicative of the rest of the world. To my delight, I had many conversations with the y
oung people of Indonesia
this summer as I delivered my talk on "Developing the Great Leaders of Tomorrow" at several schools. Perhaps because they've struggled more with poverty and have had to start working at a very early age, I found their questions deeper and more mature than from their American peers. They share many of the same interests and passions, but there was a noticeable difference in our conversations.
One that stood out was when a 16-year old boy approached me after my talk in Bali. I was alone on stage ready to leave for lunch when I saw him coming up the aisle. After arriving, he looked up and said, "Mr. Dennis, may I ask you a question?"
"Sure," I said, "What's on your mind?"
Then, totally heartfelt, he said, "Mr. Dennis, I'm not very smart in academics. But, can I
still
become a great leader?"
I'll never forget this moment. For the next 15 minutes we talked about academics and leadership and how my book might serve as an encouragement to him. What courage and humility that he demonstrated! "Yes, by your actions, you've shown me you have what it takes to become a great leader," I said.
He looked up, and with a spirit of hope, said "Thank you, Mr. Dennis" and walked away.
I'll never forget these conversations. While some were painful, many were hopeful. They renew my
passion for today's youth
and young adults and for our mission to help them see a worthy vision for their lives.
So, as we develop our New Year's resolutions, let's all commit to the following with the young people in our lives:
To appreciate and honor them for their uniqueness and worth
To listen to them
To seek to understand them, even when we may not always agree
It's a priceless gift that costs us nothing!
Merry Christmas from all of us at LifeSmart!
---
Tagged as: reflections, New Year, New Years Resolution, Christmas, Indonesia, young people, young adults, teens, mentoring, life purpose