Why a Guy Like Me is Qualified to Write a Book Like This
1/29/2011 4:21:51 PM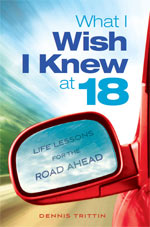 It might surprise you but I didn't set out to write a book. In fact, I've never had any ambition to be a writer,
per se
. It just came out of the blue. As I sat down to write some last-minute advice for my son before he headed for college, the next thing I knew, I had a book on my hands!
So, naturally people are asking what qualifies me to write a book like this. (I think what they're really asking is "Who are you and why the heck should we listen to
you
?")
Well, first of all, I'm crazy about kids. It's been this way for as long as I can remember. I adore my two and thoroughly enjoy others, too. I want to see them achieve all the success in the world and fulfill their amazing potential.
That's basically why, at the age of 53, I left at the top of a 27-year investment career as Senior Portfolio Manager for Russell Investments. I traded it all in for a volunteer board position at a private school to develop a financial literacy program and teach kids all about money.
Some people are passionate in kids' causes because they had it rough growing up. Not me! I'll always cherish my modest, small-town upbringing by parents who were devoted to each other and to their family. They instilled strong values in me. They emphasized relationships and the simple things in life. The lessons I learned from them are universal and timeless.
I've also had remarkable exposure to some extremely successful people and environments. With BBA and MBA degrees in Accounting and Finance, along with a Chartered Financial Analyst designation, I was well-credentialed for my long investment career. Being employed by a company ranked as one of the top places in the
world
to work, serving in several senior management positions, and being trained by industry pioneers was an incredibly empowering experience. I evaluated thousands of top investment firms and learned from the best financial minds in the country. This allowed me to witness firsthand the qualities of successful leaders.
My spiritual life has also played a critical role in shaping the person I've become and the lessons I'm sharing with the next generation(s). Participating in a faith community has given me firsthand experience in helping the needy alongside extraordinary humanitarians. It's also been a significant source of strength during tough times.
As a husband (28 years!) and father (for 21 years) who is still on a steep learning curve, I know firsthand the life lessons I want my children to have in order to become the best and most successful people they can. Even though I'm just a regular guy, I've learned some significant pointers which, unfortunately, aren't all being taught to our kids. Not that other people haven't learned these lessons, too. I just happened to compile them into a comprehensive book of life wisdom—wisdom I sure wish
I
had when
I
was 18!
---
Tagged as: