Free Webinar Series for Parents of Teens!
6/8/2016 2:47:21 PM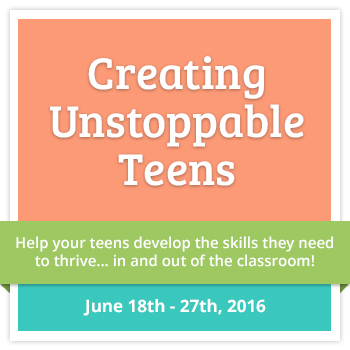 When you think about your teen's future, do you worry if they have what it takes to thrive on their own? Are you 100 percent confident they're equipped with the necessary resources to be successful adults?
When you've worked so hard to raise happy and healthy teens, it can be worrisome to see them:
feeling stressed out and overwhelmed
having a hard time staying focused and motivated
struggling with procrastination or disorganization
suffering from low self-confidence
The good news is that the skills young adults need to thrive post-high school are learnable,.even if they're not always taught in the classroom.
If you want to learn more about the life and career skills teens really need, and what YOU can do as a parent to help develop them, we invite you to join us for this upcoming interview event with
Parenting for the Launch
authors Dennis Trittin and Arlyn Lawrence and coach and teen mentor Dr. Maggie Wray.
Creating Unstoppable Teens:
Help your teens develop the skills they need to thrive—

in and out of the classroom!

June 18 – 27

In this exciting interview series, we (Dennis and Arlyn) will be featured among 22 leading experts in the field. In our talk, "Parenting for the Launch: Preparing Your Teen for a Successful Career," we will reveal the key life skills and strategies teens need to thrive in their future career, as well as the ways parents and educators can help position their students for a lifetime of success.



Learn more and get your free (yes, free!) ticket right here.

Dr. Maggie Wray is a certified academic life coach and ADHD coach with a Ph.D. in neurobiology and behavior from Cornell University. She is passionate about empowering the next generation and helping students develop the skills and mindset they need to be happy and successful (a woman after our own heart!). You can read more about Maggie and her coaching business at creatingpositivefutures.com. Trust us, this is an interview you don't want to miss!

When you register to join us (and the rest of the expert panel on this topic), you will receive a ticket to the online interview series, free access to a replay of each interview for a full 48 hours after it airs, and access to valuable gifts from all 22 guest speakers!

To see a complete list of all the guest speakers and the topics we'll be discussing, visit:
www.unstoppableteens.com/dennistrittin.

Click here to listen to our interview when it's aired and hear the rest of the experts weigh in on this topic.

We hope you'll take the time to add these invaluable resources to your parenting toolkit!



---
Tagged as: webinar, interview, parenting, teens, parenting for the launch, free, podcast