Our New Book for Parents is Here!
11/29/2013 7:55:52 PM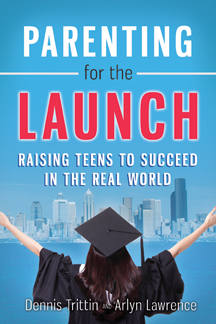 Great news! Our new book for parents of teens is here! Parenting for the Launch: Raising Teens to Succeed in the Real World is now available for you to order, just in time for Christmas.

We never envisioned writing a parenting book when we began collaborating on What I Wish I Knew at 18. But, through our work with educators, counselors, business leaders, employers, and families, we regularly hear feedback about the training today's kids are not getting, and what's needed—from the perspectives of those receiving the kids we're raising – i.e., employers, colleges, schools, and youth organizations.

Click here for sample of Introduction, Chapter One, and Video Trailer

As part of parent communities ourselves, we're also keenly aware of the emotions and concerns that surround the launching and releasing of our children into society—out of our arms and into the real world. Questions about whether we've covered the bases, built an a enduring relationship, and set them up for a smooth transition keep us awake at night! All of these reasons are precisely why we wrote Parenting for the Launch. Here's how you can order:

Parenting for the Launch Order Page - Atlas Books

Or call 1-800-BOOKLOG

Use coupon code P4TL

only $12.99 (regularly $18.95)

now through December 31, 2013.

It's our joy and privilege to serve other parents, who, like us, want to set their children up for every success in life. And, it's an honor to help educators build stronger bridges with parents. We hope you enjoy the book, spread the word to others, and join us on our journey at www.parentingforthelaunch.com! Stronger parenting for stronger kids!

Holiday wishes,

The LifeSmart team


---
Tagged as: parenting for the launch, parenting, book launch, teens, family, graduation, life skills